About
 The Genesis of our Business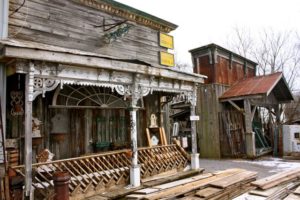 A Company History of Legacy Vintage Building Materials
Legacy Expediters Inc. was incorporated in early 1997 and registered its trade-name "Legacy Building Supply" shortly thereafter. The enterprise was the effort of Sven Kraumanis, a builder and a renovator for over 30 years involved primarily in historic and architecturally meritorious projects. He enjoys the high quality of design, materials and craftsmanship frequently found in labour-intensive projects from times gone by.
Founder's Background:
Since leaving his hometown of Cobourg in 1964, Sven has lived and built in England, Bermuda, Ontario, British Columbia, North Carolina, Missouri, and Florida. He has bought, sold and integrated architectural artifacts and reclaimed building materials from all over the world into his remarkable building projects.The projects include a heavy timbered cliff-top triplex served by a Swiss monorail and the Clocktower Hotel, both at Whistler Mountain, B.C.; the tugboat and barge transport of forty flatbeds comprising the dismantled Expo '86 "Heritage Village" buildings to a high tide beach landing site on Gabriola Island, B.C. (where they were later reconstituted as a "wild west" styled mall); the conversion, infill-housing and condominium development of the Shaughnessy estate of the former Lieutenant Governor of B.C. and the renovation of the Vancouver home of a former Minister of Justice of Canada.
Genesis of the "Legacy" concept:
In late 1996 Sven wound down his law practice in the United States and resettled in Cobourg. Intending to build a home there, he dismantled some barns to obtain the interesting materials that were not readily available. After visiting every significant salvage operation along Ontario's lakeshore from Hamilton to Kingston Sven determined that the market for vintage building materials was under-supplied. Fulfilling his desire to embark on a meaningful business Sven secured and rezoned Cobourg's C.P. Railway yard and over the ensuing year accumulated sufficient inventory for Legacy Building Supply to open for business on July 15, 1998. A constant source of inventory was developed through continued strip-outs, deconstruction projects and the formation of a resource network of like-minded people and businesses.
Early Days:
Much motivation for the genesis of the Legacy enterprise came from Sven's philosophy that landfills are a costly and wasteful alternative for re-useable building materials and house-wares. It is estimated that at least twenty percent of landfill material is "waste" from renovation, demolition and new construction projects. Compounding this already grave landfill situation is the unnecessary harvesting of trees and resulting erosion of the world's forest reserves, animal habitats and green spaces -ostensibly to meet the demand for scarce timbers and lumber. Legacy has in its brief existence shipped countless tons of salvaged timbers to Alberta, Montana, Wyoming, Texas, Virginia; lumber to New York; bricks to Bermuda; tin ceiling to Georgia and California and iron fireplace surrounds and accessories to Missouri and all the western provinces.
Over recent years generally adopted recycling programs have lead to an enhanced awareness regarding the concept of reclaimed building materials – especially for artifacts of historic interest. However, it is a time of accelerating change for all regions within the range of urban sprawl. In these areas the interests of land developers and preservationists are, by definition, frequently polarized. Relentless economic pressure and disparate philosophical views ensure that this friction will never cease. Legacy provides an environmentally sound salve to some of the harsh realities of progress. Meritorious architectural elements need not be lost "forever". The integration of reclaimed architectural artifacts will go a long way to preserve the fine heritage that is Ontario's hallmark. Legacy's old freight shed, itself an interesting building, is now a "safe harbour" for select materials that survive the demolition of our early structures. Legacy adopts the view is that we don't inherit our environment from our ancestors, but rather borrow it from our children.
A Growing Focus: 
After four years Legacy attracted a kindred spirit in the form of Christine Jenkinson. Common interests and philosophies over time led to a shared life and the business partnership that constitutes the enterprise today. As a result of Christine's very fine eye for colour, style and presentation, Legacy embarked on a renovation and reorganization of the store. A name modification to Legacy Vintage Building Materials and Antiques heralded the change. Buying trips to France, England, Pennsylvania and numerous local shows provided the inventory to best demonstrate Christine's merchandising skills. As Store Manager, Christine donated Legacy's contemporary building supplies to charity focusing the company on the preservation of vintage materials. She further refined Legacy's inventory mix by diminishing the number of categories but filling them with finer products. Continued refinement and upgrading of Legacy's computerized inventory has enhanced and simplified the shopping experience of Legacy's clientele. More recently the massive task of overseeing the building and launch of Legacy's "virtual warehouse" website fell on Christine's shoulders.
Legacy strives to be a high tech, one hundred-year-old building supply outlet; to become the envy of Home Depot, but thankfully, way behind the times.
Regional Understanding – National Perspective – Global Reach