Bird Branch Hook – DIY
There are heaps of great materials hidden away at Legacy Vintage just waiting to be brought to life in new and creative ways.
I am going to take you on a little scavenger hunt around the shop in search of wonderful and perhaps random items we can salvage and use to create unique treasures and original pieces of artistic details for your home and garden.
With the onset of cold, wintery weather one needs to bundle up for all their comings and goings.  With all the layers one needs this time of year, coat hooks seem a simple but ingenious solution to the clutter of hats, scarves and coats.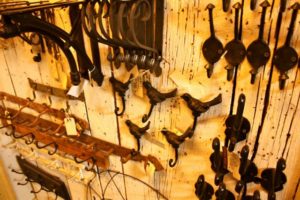 For my project I wanted to make a coat rack that catches the eye!
With walls full of hooks to choose from here at Legacy I knew this would be a cinch.
I love the snowbird hooks, so that is where I started.  After a short wonder threw the store my imagination took off.
And here is what I came up with;
I picked out four snowbird hooks.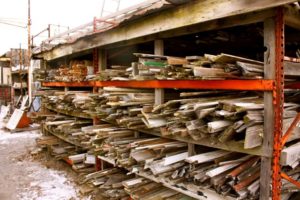 Then I ventured outside.  In the yard there are racks upon racks of old trims, mouldings and baseboards.  I thought this would make a decorative backing for the hooks.  I found the perfect board with chipping paint, which adds to that appeal.
I also passed a tree and thought the birds might look cute perched on a branch so I cut one off.
To begin the assembly I scrapped of the large flakes of paint with an ordinary scraper to stop it from shedding.  I gathered together some screws, a drill a measuring tape and a pencil.
I first laid out the branch on the trim and screwed it in gently.  I measured the trim and marked out even spacing for the bird hooks. Once I had drilled in the screws where I wanted them I tucked the hooks under the branch and hung them on the screws.
DONE!
One cute, unique, shabby chic coat hook!!!