Dormer Windows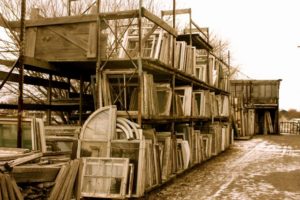 At legacy we carry a wide range of antique windows with all types of glass (leaded and stained, etched, patterned, beveled) in an array of sash shapes & sizes; gothic, D, circle-head, in-line, round, oval & symmetrical, to name a few.
About 5 weeks ago, customers Dave & Alison purchased a dormer window from legacy which was in great need of repair. Outside they found in our vast collection of windows a completed dormer window and they were able to use as reference point for their restoration project.
"…at Legacy we took several shots of a finished dormer so we could have a reference to make missing or damaged parts on the one we purchased, we tried to make it exactly the way it once was and to keep the windows operable."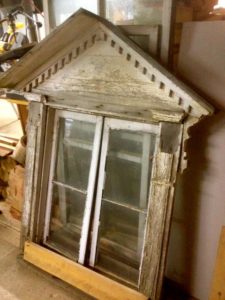 "We used mostly hickory for the parts and trim we made simply because thats what wood we had on hand. The end result is fantastic and we have already had many compliments. One photo is of the garage a year ago when Alison first bought the property, the garage is about 30 years old and is all you see when you look in from the sidewalk as the whole front is lined with a cedar hedge blocking the view of the house. the house was built about 1894."
To see more of the finished dormer window check out the gallery below. Notice the dark wood around the dormer is walnut to match the sconces for the lights. This was a nice touch that made it easy to fit the dormer in a smaller the opening.